Jimmy Black of Scottish Housing News meets Bill Banks, retiring CEO of the multi award-winning Kingdom Group.
Bill Banks looks relaxed, calm and entirely at home in his relatively modest office at Kingdom Housing Association. He's a man at the height of his powers with a very solid track record of achievement. But Bill's second career is now complete and he will soon retire.
His first career was as an assistant hotel manager, working in Peebles and Largs before moving to the Golden Acorn in Glenrothes. But marriage and starting a family required a change. After jobs in a local Co-op and the Mossmorran construction site, and three children later, Bill went back to college to study business management and then undertook a business administration degree. He landed a job in corporate planning at Kirkcaldy District Council.
The pace of council life in the mid-1980s was too slow for Bill. He spotted an opportunity to make more of a difference at the nascent Kingdom Housing Association. The council was losing its social rented homes to the Right to Buy, and Bill liked the idea that Kingdom was a small ambitious organisation, and its homes were immune from sale, due to Kingdom's charitable status.
So in 1987 he quit the plush offices of the Kirkcaldy Town House and set off for a job interview in a cabin on a gap site behind Cowdenbeath High Street. The birthplace of Kingdom HA seemed so unlikely that Bill had to walk around the cabin and peer in the windows. He became the fourth member of Kingdom's staff. Now the Kingdom Group employs 500 people.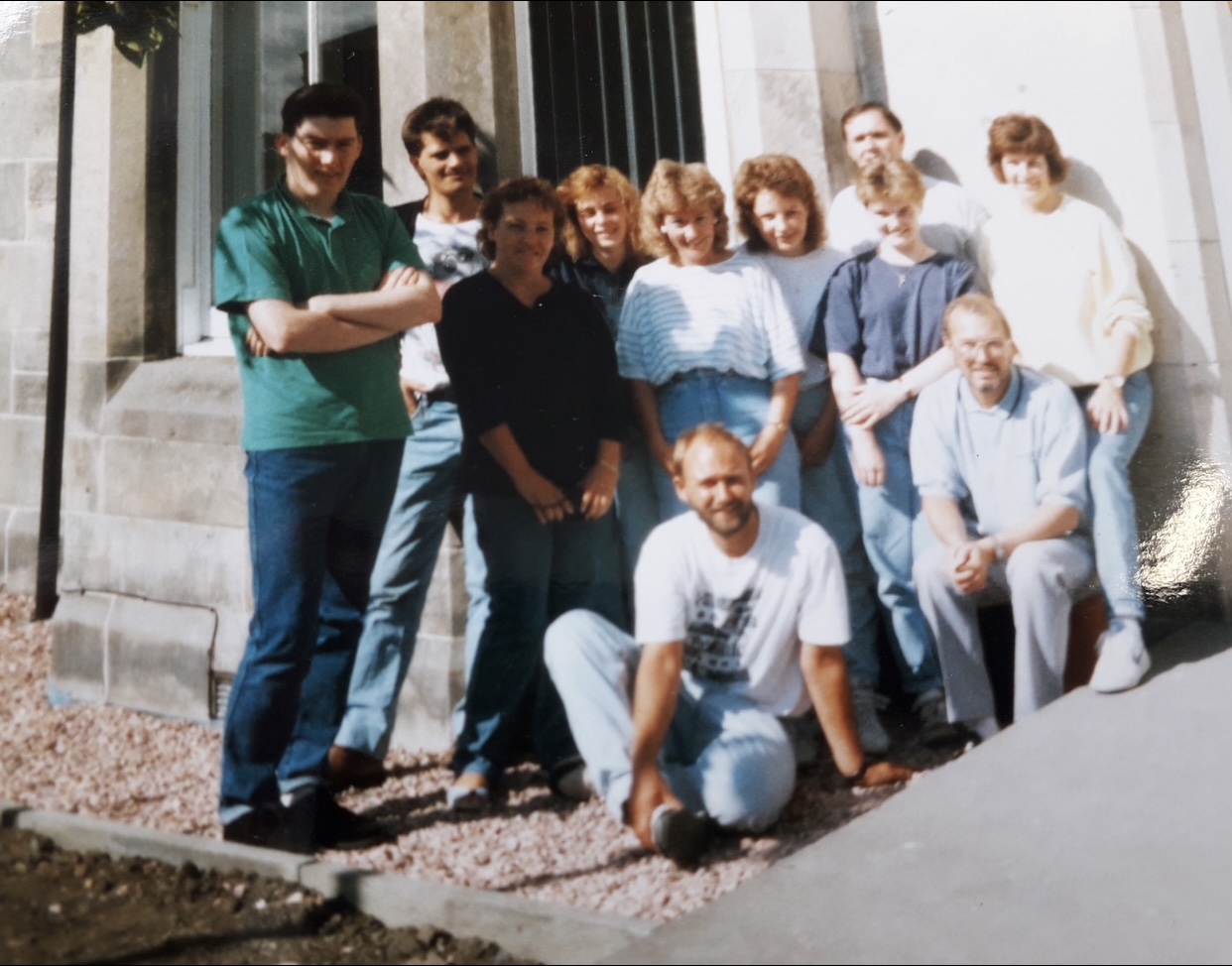 Craig Sanderson, former CEO of Link Housing, had seconded Alan McGuckin, one of his development officers, to the new association, and it was Alan who recruited Bill as an Admin officer. As the association developed, Bill did nearly all the jobs at one time or another, including collecting rent and that thankless task of chasing arrears.
Alan McGuckin was a helpful, supportive boss who encouraged people to try new ways. Within a year Alan asked Bill if he wanted to choose to focus on development or housing management. Bill chose development, and he found himself developing proposals, negotiating for land and then spending the Government's money to build new homes.
At first, the projects were relatively small, running to a few hundred thousand pounds. It came as a bit of a shock when Kingdom landed a grant of £5 million for a bigger development programme, but Bill had the confidence and the ability to step up and make things happen. The partnership between Alan McGuckin, who became director and then chief executive, and Bill as development director was key to the success of Kingdom HA over decades. Alan retired in 2013 and Bill became CEO, after a long period of being Kingdom's depute chief executive.
Bill still remembers back in the day when development projects received the majority of their funding through grants, rents were set by the rent officer and a residual loan was provided by the Government. However, this was also a time when an application had to be made for increased funding for property enhancements such as double glazing and central heating.
Professional passions
Although he has been described by a former colleague as "quiet and effective", Bill has his professional passions. Homelessness, unemployed young people, community benefits, innovation and energy efficiency are among them.
He is particularly proud of the work Kingdom has done to find jobs and homes for young people. Some time ago Kingdom looked at the age profile of their staff and found fewer than 5% were under 25. With an ageing team, succession planning was a concern.
Young people were not applying for jobs as they lacked the required experience. Over the years, Kingdom had recruited trainees, but something more was needed. About seven years ago the current Kingdom trainee programme began. This involved a three-year professional programme with trainees in every department across every area of activity.
Every one of the trainees who has successfully completed the programme has gone on to get a full-time position with Kingdom; Bill says some of the trainees will be the leaders of the future.
As well as the professional traineeship, Kingdom's in-house maintenance team has a four-year programme for apprentices across all trades, except gas. It's a way of tackling the skills shortage … Kingdom is growing its own technical workforce.
There is also the award-winning Naumann Initiative. Named after Laurie Naumann, one of the founders of Kingdom HA and a former director of the Scottish Council for Single Homeless, the project ensures a home, a job and support for homeless young people.
Kingdom's employability team (Kingdom Works) engages with other employers, some of which are connected to Kingdom through construction projects or service delivery. Trainees gain work experience, training and relevant qualifications, and Kingdom's own tenancy support team helps the young people sustain their tenancies. One of the first trainees on the project found a job with Kingdom, using her lived experience to support other homeless people.
Bill regards the Naumann Initiative as a pattern which other associations could use to achieve the same benefits for young people. He is "a wee bit disappointed" that no Scottish housing associations have taken up the scheme and adapted it to their own needs, in spite of Kingdom's offer of help and support. Two social landlords in England are following the model but, so far, none here.
Kingdom Works, the team which helps and encourages local people into work, underpins Kingdom's employability initiatives, building strong relationships with local employers. Bill says he'll see some youngsters, very deflated and feeling that there is no future, change into completely different people after two months on one of the programmes.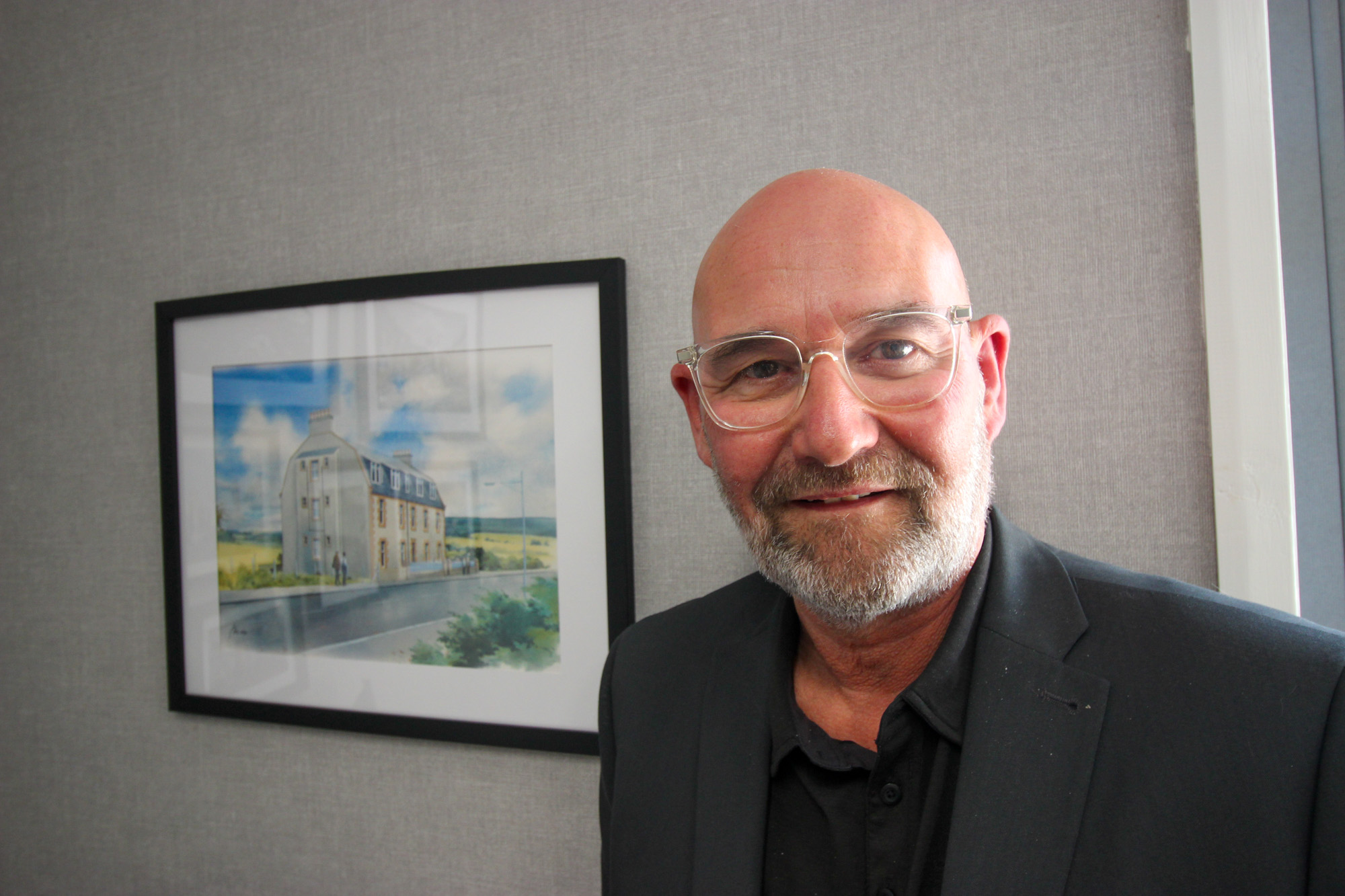 Innovation is another of Bill's passions. Back in 2010, people in social housing were starting to talk about passive houses, buildings which are airtight, heavily insulated and use very little energy. At the same time a whole range of renewables was becoming available … air source heat pumps, solar thermal and PV panels for hot water and electricity and heat recovery systems. Bill wanted to know what actually worked, and asked his team to throw everything they could into "The Kingdom House – A House for the Future", a passive house in the beautiful but windy village of Pittenweem.
It was a big success but was never meant to be repeated in that form. Instead, Bill wanted to explore many different methods of achieving low carbon homes and new methods of building.
Also in 2010, Bill travelled north to Scotland's Expo, a development of 52 architect-designed houses near Inverness which was designed to "stimulate and showcase imaginative new approaches to 21st century housing."
Looking round the different models, Bill was impressed by many of the ideas on show but still came to the conclusion that Kingdom could do better. That was the genesis of the Housing Innovation Showcase in 2012, where Kingdom, Fife Council and ten different housing system providers got together to develop 27 new homes using different Modern Methods of Construction (MMC) as a Kingdom project.
All the information about the Showcase is still available on the Kingdom Group website, including monitoring and evaluation results for all the house types in the development. But there is another living legacy of the Showcase, very much in line with Bill's commitment to young people and employability. Kingdom Works put ten construction industry trainees to work on the Showcase site, gaining invaluable live site experience, and working with techniques which were "set to revolutionise the way affordable homes in Scotland are built"
Net Zero
Kingdom's first sustainable housing project was built in 1999 and further innovation has been delivered through Kingdom Net Zero projects. Bill's view, based on experience, is that "fabric first" is the way to go; getting the insulation right, adding sensible technologies where required, whether pv panels, air source heat pumps or other renewable solutions.
Kingdom has commissioned 30 passive houses in Gauldry for social rent to be delivered by Campion Homes. At £230,000 each, these houses don't come cheap, but tenants will feel the benefit of warm homes which cost very little to run. The Gauldry project, which is now on site, is attracting a great deal of interest from MSPs and others across the sector.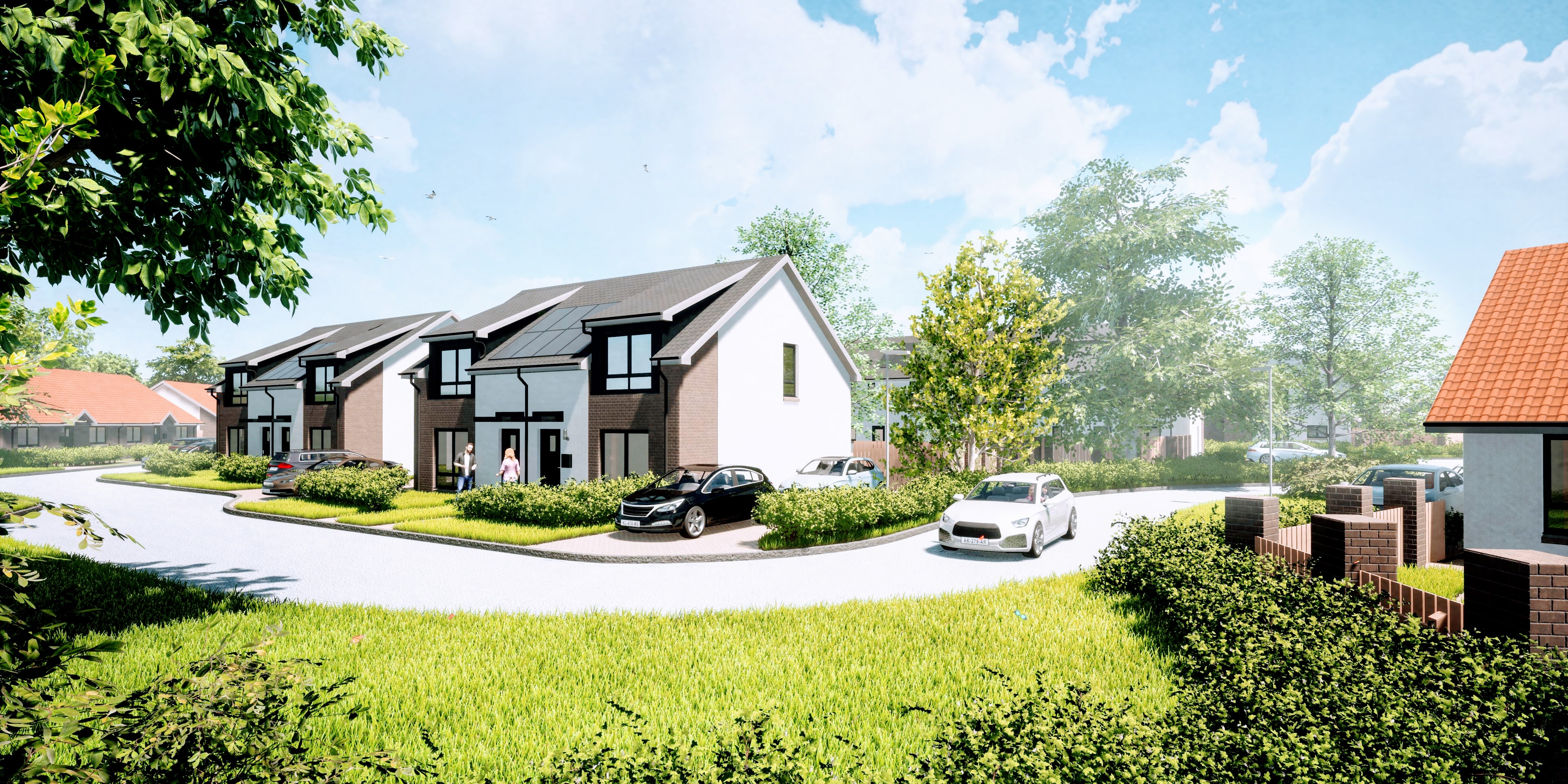 Kingdom may be a leader in building passive houses, but Bill is not necessarily a supporter of Alex Rowley MSP's proposal that by law, all new houses should be built to the passive house standard, or a Scottish equivalent. He is also concerned that the Scottish Government has agreed to "fast track" the new law through Parliament.
Posting on LinkedIn, he said: "I fear standards will be introduced without any consultation and no consideration of potential unintended consequences."
The Scottish Government's rent freeze, brought in without consultation, shows the perils of that approach. Bill also points out that passive houses typically cost at least 20% more to build and wonders if the Government will provide that extra cash.
Meantime Kingdom is working on the next big challenge, bringing existing homes up to net zero standard. The plan is to learn by retrofitting some of the association's older homes in Fairfield, Perth.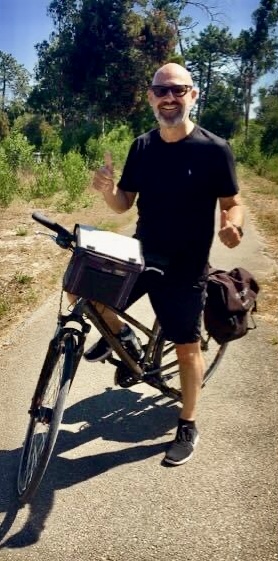 Embracing new tenures
Kingdom Housing Association is the parent organisation of the Kingdom Group, which includes Kingdom Initiatives and Kingdom Support and Care. As of March 2022, the Group had 5470 social rented homes, and 717 houses for mid-market rent (MMR).
Bill's innovative approach means Kingdom embraces other forms of tenure, beyond social renting. Its mid-market rent houses came about when funding for shared ownership housing dried up. Bill felt MMR homes provided a new option for people with very little chance of ever getting a social rented property, buying a house or affording something decent in the private rented sector.
MMR requires less subsidy than social renting, but Bill argues that Government investment is still required to make MMR possible, keeping rents somewhere close to the Local Housing Allowance level. Kingdom's MMR is generally aimed at people on low incomes in employment; if something goes wrong and they lose their job, they can claim benefit for most and perhaps all of their rent. As it happens, early predictions that MMR would suit young people who would stay for a few months and move on have proved false; the age of Kingdom's lead tenant is typically 38 and people are treating MMR as a long-term sustainable housing option.
MMR is becoming more widely accepted now, but Co-Housing is still seen as a bit different. In the Perthshire village of Scone, Kingdom has provided 51 "Co-Housing" units for people who are over 55 and want to live in a supportive community, where many of the management responsibilities shift to the residents.
It's quite a portfolio and Bill has been at the heart of things ever since the early days with Alan McGuckin. Kingdom has collected many awards in that time, including Housing Provider of the Year 2022 and most recently, Platinum Investors in Young People accreditation. Bill himself won the CIH Scotland Excellence in Leadership Award in 2021.
While there's no doubt that Bill has made a very big contribution to the success of Kingdom HA, when he announced his retirement he was keen to credit others around him for their work. He said: "Kingdom's achievements wouldn't have been possible without the support of a dedicated management team and board and, of course, great colleagues across the group. I know Kingdom will continue to go from strength to strength and I'm looking forward to starting the next, less busy, chapter in my life, whatever that may bring!"
When asked about people who have influenced him, Bill said he had been motivated throughout his professional career by many people he had worked with and if asked to pick one well-known influencer, it would probably be someone like Richard Branson, who started small, demonstrated innovation and built a successful business through diverse operations, which is very much like Kingdom's journey, but on a very different scale.
So what will he do now?
Fortunately, Bill has other passions beyond housing, innovation and helping young people into employment. He spends lots of time with family and has four grandchildren. He still has the explosive energy required for competitive badminton, although his 16-year-old grandson can beat him now (so lessons may be on the future to-do list). Trophies won in the regular Kingdom vs Hillcrest badminton competition sit proudly on his filing cabinet.
He's keen to do more cycling, and being retired means he and his family and friends can visit Tenerife even more often … they've been going there for twenty years. Holidays will feature high in whatever Bill does next and he said his favourite previous holiday destinations include Florida, Singapore and Dubai. The family is making plans for another big holiday after retirement, along with a couple of weekend breaks and trips abroad to watch some tennis competitions.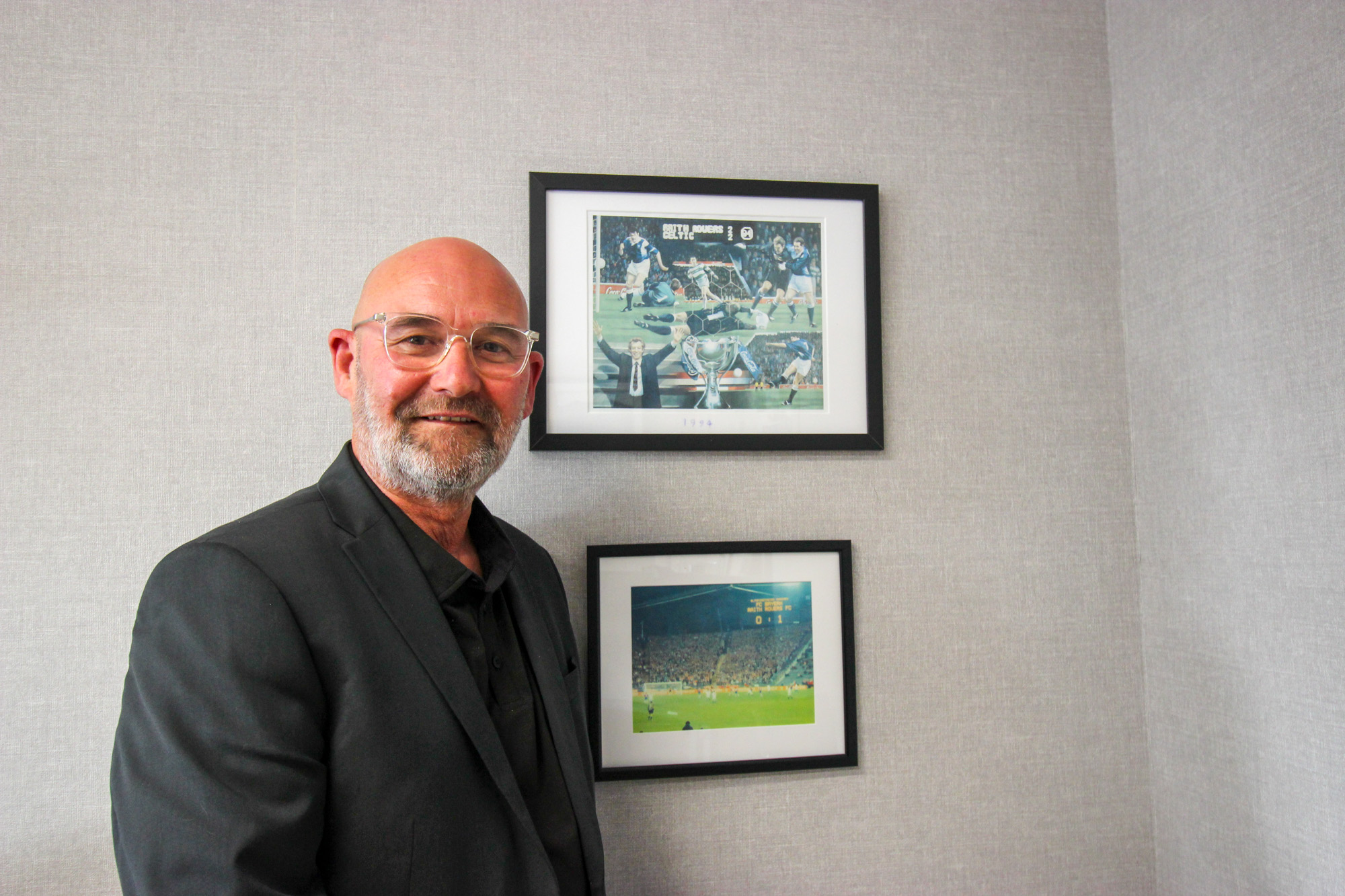 He might also treat himself to a campervan, small enough to navigate the Highland roads. Then there's Raith Rovers, which after some troubled times are winning again. Bill is still a season ticket holder and recalls the glory days in 1994 when the Rovers beat Celtic in the Coca-Cola Cup Final; and being 1-0 up against Bayern Munich when they had a taste of European football. He now attends the games with another of his grandsons.
The housing world may hear from him again, once he's had time to get used to a different pace of life. He's still on a couple of boards. There might be some consultancy, or involvement in governance, but not yet. After all those years of hard work, Bill's really looking forward to some serious time off.
21/2/23