The first trainees to enrol on Kingdom Housing Association's initial three-year Trainee Programme have successfully completed their training and celebrated their appointment to permanent jobs.
Trainees and apprentices from across the business gathered at Kingdom's Glenrothes headquarters to congratulate Brendan Slater, Morgan Anderson and Michael Mayes on securing jobs with Kingdom's asset management, human resources and finance departments.
In 2016, Kingdom built on its long history of taking on trades apprentices and devised its first Trainee Programme allowing young people the opportunity to study for professional qualifications while gaining valuable practical experience within the organisation.
The success of the programme has prompted Kingdom to expand the scheme to offer five new posts this year for graduate trainees in Housing and Capital Investment, two New Career trainees in Health and Safety and Technical Services and a Young Person trainee as part of the Kingdom Works Team.
Nine trainees and trades apprentices at various stages of their training this week joined Kingdom's group chief executive, Bill Banks, at a lunchtime event to mark the graduation of Brendan, Morgan and Michael from the scheme.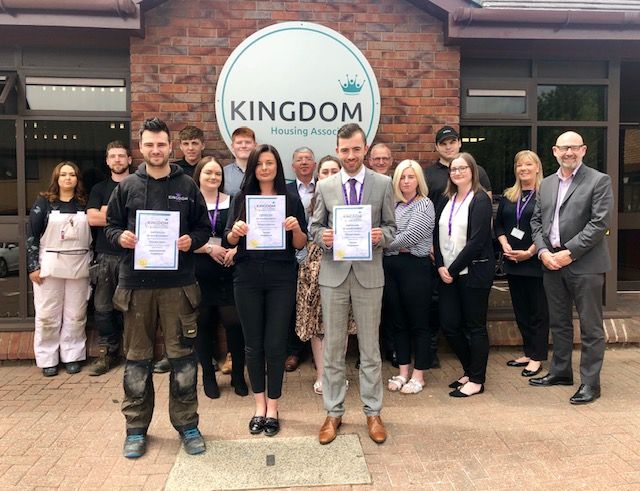 Morgan Anderson, who successfully worked towards the CIPD Intermediate Certificate in HR Management during her traineeship and has been newly appointed as an HR officer at Kingdom, said: "Before this training programme was offered I didn't see a way to progress in HR due to the cost barrier. Studying for my professional qualifications while working at Kingdom struck the perfect balance for me between practical and academic experience. It allowed me to get qualified and earn at the same time. I wouldn't change a thing and would encourage anyone to consider a traineeship."
Michael Mayes, who achieved the AAT Professional Diploma in Accounting and who has secured a permanent post with Kingdom as a finance officer, added: "One of the biggest benefits I found to the traineeship was that it allowed me to put the theory from what I was learning in my coursework into practical application in post at Kingdom."
Bill Banks thanked all the trainees who are part of the programme and congratulated the trainees who had successfully completed their training programme.
He said: "Back in 2016 we recognised that it was becoming increasingly more difficult to attract and recruit younger people into the housing sector, who had the necessary skills and qualifications to undertake the type of work we required. It was at this stage we took the decision to recruit trainees who could be trained and were prepared to undertake professional qualifications in various disciplines."
He added: "The programme has met all our expectations and the feedback from those who have participated has been excellent. It's not easy to study for formal professional qualifications, whilst maintaining a full-time post, however the trainees have all demonstrated an extremely high level of dedication and commitment."